Scratch Coat/Bond Coat
Prior to the application of Marbelite, a scratch coat/bond coat is required. This acrylic-based bonding adhesive is applied with a notched trowel and appears as a rough finish. Within 5-7 days, this initial coat dries and a final Marbelite finish is applied.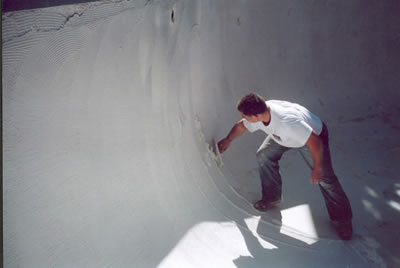 Marbelite Coat
A team of skilled plasterers applies the final Marbelite finish on top of the existing scratch coat/bond coat. The finish is generally one-half inch thick and appears as a smooth finish. Because the finish is hand-troweled, slight variations in the amount of pressure used to trowel may create minute variations in the Marbelite's overall appearance. These variations add a natural character to the final finish and enhance the appeal of your swimming pool. The final Marbelite finish cures within 28 days during which proper maintenance and chemical balancing are of great importance.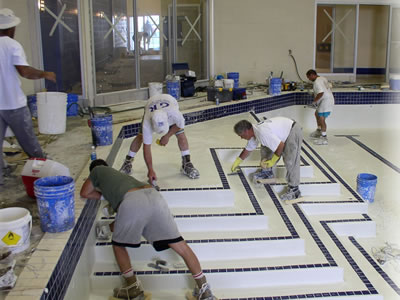 Keying Below Waterline Tiles
With certain swimming pool renovations, keying below the waterline tiles is required. This happens in cases when a Marbelite renovation takes place without the replacement of waterline tiles. Because the final Marbelite finish is one-half inch thick, the area below the waterline tiles must be chipped and removed in order to avoid a bulge or lip where the Marbelite meets the waterline tiles. Keying allows for the new Marbelite finish to be "feathered in" without any noticeable seams.

The Finished Product
The end result of the Marbelite process is a smooth, new finish in your choice of white, grey, blue, green or speckled coloured quartz marbelite.